A medieval banquet needs musicians who can play medieval music. A Medieval banquet needs minstrels who can play on the move. For the best entertainment your medieval or tudor themed event needs THE BELTED EARLS
The Belted Earls Minstrels

Welcome to the BELTED EARLS
THE ULTIMATE BAND FOR YOUR THEMED EVENT
The Belted Earls minstrels for medieval banquets and barn dances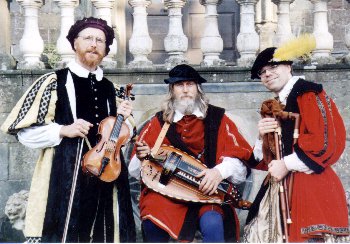 Why have ordinary minstrels
when you can have the
BELTED EARLS
Headed by Glenn Wardle, we play a
wide variety of instruments including
Bagpipes, Hurdy Gurdy, Hammered
Dulcimer and Fiddle.

Available as 1,2 or 3 musicians, we have
played on the continent and all over the UK.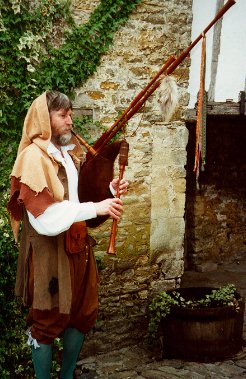 Experts at joining in, The Belted Earls don't hide
behind music stands. Appropriate use of our
radio microphones and stereo PA (if required)
allow costumed minstrels to mingle with guests.
Email the Belted Earls at minstrel@beltedearls.co.uk



Links to other sites on the Web

Glenn Wardle with the Roots Band Ophiuchus



Chippenham Town Morris



The Bagpipe Society

You can hear a 4 minute MP3 sample of us by
downloading the The Belted Earls.
This should take about 11 minutes on a 56k modem.
Whether you just want strolling minstrels, or a full medieval banquet,
The BELTED EARLS are Putting entertainment back into period music.
© 2002 Glenn Wardle gwardle@freeuk.com

---